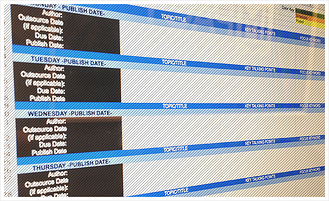 Never let inconsistency affect your traffic and leads.
Writing is actually the easiest part of blogging.
It's the planning and organization that poses the significant challenge.
By using a blog editorial calendar to organize your ideas, the framework for your blog will already be there when you sit down to write. It'll also ensure you're keeping track of your publishing schedule so you always meet your deadlines.
Your blog needs to be published consistently, be optimized for keywords, and targeted to the right audience. This calendar will help you to stay on track.
This calendar will help to organize:
Blog author, topics and titles
Keywords and talking points
Publish date
Target audience
Download the free editorial calendar template to help organize your content today.