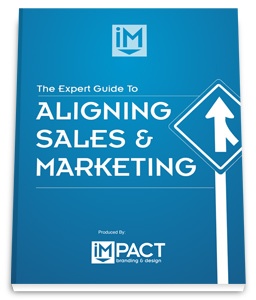 Marketers and salespeople are both in search of the same thing; qualified prospects.
As a result, it's critical that both teams are fully aligned in their process and strategies in order to deliver the results your company needs.
This ensures that your salespeople aren't wasting their time on the phone, and that your marketers are targeting the right prospects.
According to Forbes, getting sales and marketing to align to the buyer can make the difference between company success and failure.
IMPACT's ebook walks you through the entire process of aligning your sales and marketing teams, providing you with a more targeted approach to your marketing.
What you'll Learn:
The steps for defining qualified leads for both teams
How to generate more sales-ready leads
Getting started with your CRM software
Tips for closing the loop between marketing and sales
Align your sales and marketing and start generating more qualified, sales-ready leads.