Let's Take a Crash Course in Everything Inbound.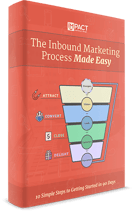 Inbound marketing is an intuitive, holistic approach to reaching your potential buyers -- but I'd be kidding you if I said it didn't take time to truly master.

In this free guide, I'll give you a simple, 10-step crash course in the methodology and show you how to implement it at your organization in 90 days whether you're experienced with digital marketing or not.
You'll learn how to:
Get educated in inbound marketing
Build (for find) your inbound team
Assess your current marketing
Define your marketing goals
Define your buyer personas
Build your marketing game plan
Design and build a launchpad website
Publish and promote your content
Evaluate your progress (and improve!)
Simply fill out the form on this page to get your free copy today!