Is your current marketing investment helping you reach your business goals?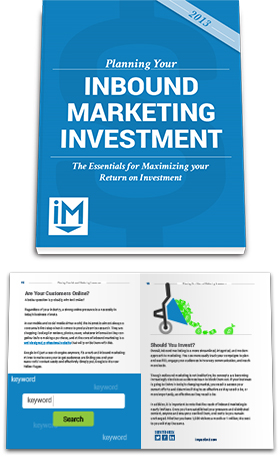 According to HubSpot, companies that implement Inbound marketing experience a cost per lead 61% less than those using outbound marketing. Isn't it time you made a smarter investment and aligned your marketing and business goals with a strategy proven to deliver a return on your investment?
A campaign that provides a great ROI should be an expectation. Not a hope.
Learn everything you need to know in order to make a smarter, more successful investment with inbound marketing and get the results you need.
What you'll learn:
How to identify your company's needs
Aligning your marketing and business goals
Keys to a profitable campaign
Measuring your ROI
Expectations for working with an Inbound Marketing Agency
The factors that determine cost
Download the ebook and know what you can expect from your inbound marketing investment.