Is your marketing agency delivering the results you need?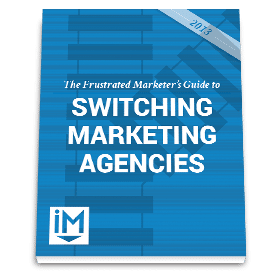 Ask yourself if the agency you're working with is keeping up with shifts in consumer behavior as well as the rapidly changing technology that's drastically changing the way we buy.
If your current marketing strategy isn't aligned with your business goals, it might be time to consider switching agencies.
Don't be left behind with an agency that's reliant on archaic methods of lead generation.
In this guide, you'll learn:
How to know when it's time to switch
What to look for in the right agency
Things to remember when switching agencies
Tips for ensuring long-term success
Download this ebook and learn how to identify when it's time to switch marketing agencies, and more importantly, how to find the right one for your company.