As marketers, we know that content, blogging, and social media is critical to the success of our campaign and overall strategy.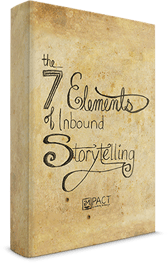 But what happens now that everyone has caught on?
Your goal then becomes differentiating your brand from the competition by telling a remarkable story that resonates with your audience. A story that inspires prospects and delights your customers.
You will learn how to:
Differentiate your brand and be unique
Identify your brand's story
Develop a story that resonates with your buyer personas
Create a consistent brand message
Learn how to tell a remarkable story and separate your brand from the noise.